Boost sales & customer engagement with post checkout tips & donations
Generosity is universal and a source of joy.
For each customer, online tipping is a gentle, discreet, and painless incentive to support your success.
For you, while providing unexpected financial rewards, gain valuable insights on your community's future needs. Quick install now and start to earn more today!
EARN YOUR FIRST TIPS
1/ YOUR STORE'S CHECKOUT

Order confirmation process: for your customers, it's a thoughtful and precise step-by-step checkout experience

2/ POST-CHECKOUT TIPPING PAGE

The post-purchase bliss: capture Customer Loyalty and instantly Boost Average Order Value with One-Click Tipping

3/ VALUABLE TIP DATA TRACKING

Real-time visualization of all tip data: how much, who, where... Uncover future needs of your community, ready to support your success.
Earn tips from your customers
Bring generosity to your store, it's simple and fun!
After completing their purchase, your customers will be prompted to add the amount of their choice, select a destination for their tip, and even leave a message attached to engage even more emotionally with you.
For your customers, no need to re-enter their payment information.
Discover the source of their generosity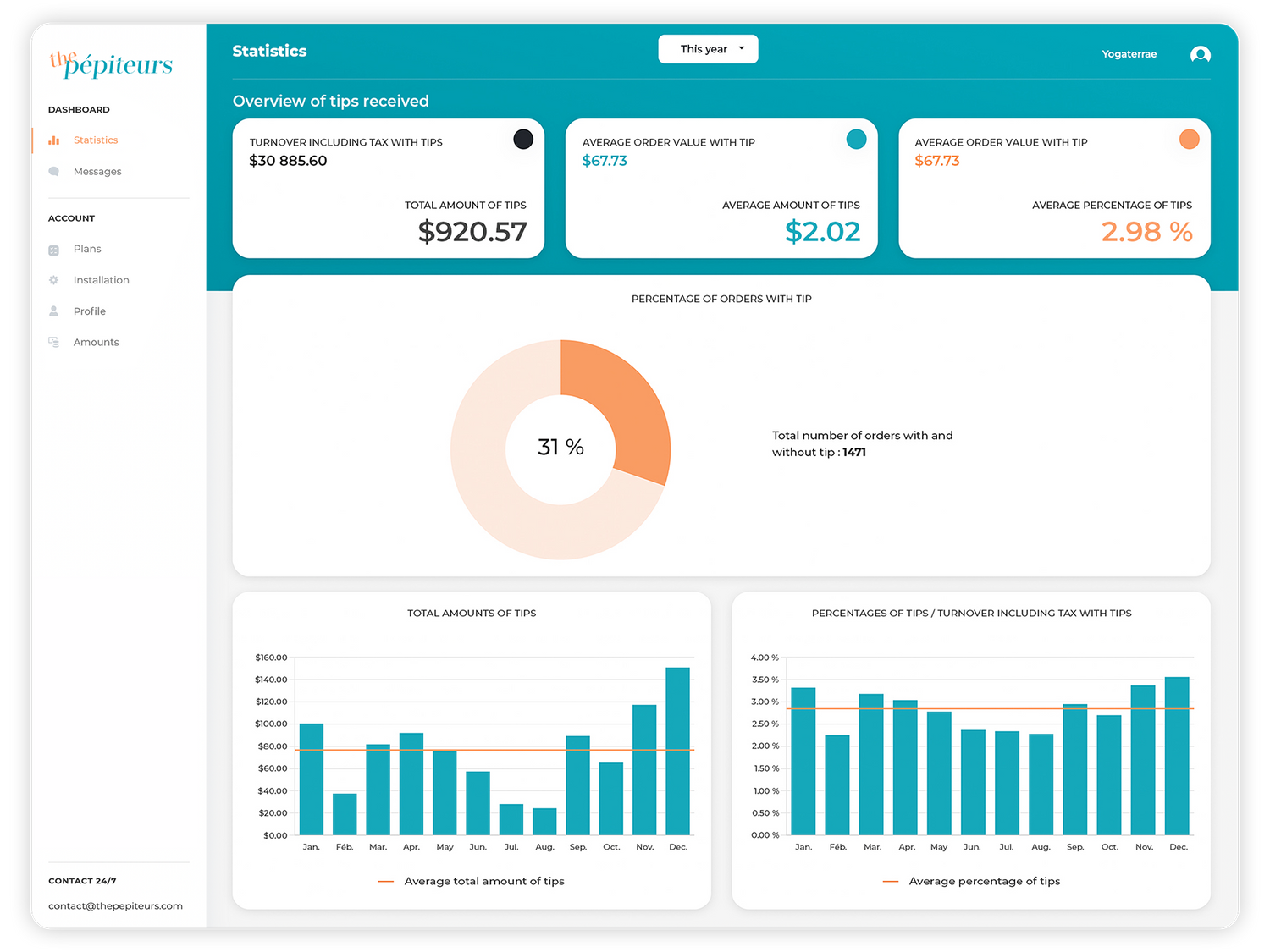 How much
Track real-time data from tips:
⦿ Total amount of tips & average order value with tip
⦿ Average amount of tips
⦿ Percentage of orders with and without tips
● Observe your tip streams and discover the potential extra amount each customer can add to every order, gaining a deeper understanding of customer behavior on your store and the impact of your business actions.
Experience unexpected insights and use them to inform your marketing strategy.
Who
In addition to customers, uncover also the ones who leave you tips:
⦿ Identify the profiles of your donor community, to better define your Buyer Personas
⦿ Recognize your customers closely to better personalize your offering and boost your engagement and conversion rates
● With the pépiteurs app, for example, you could notice that women donate more frequently, while men in general, give more individually!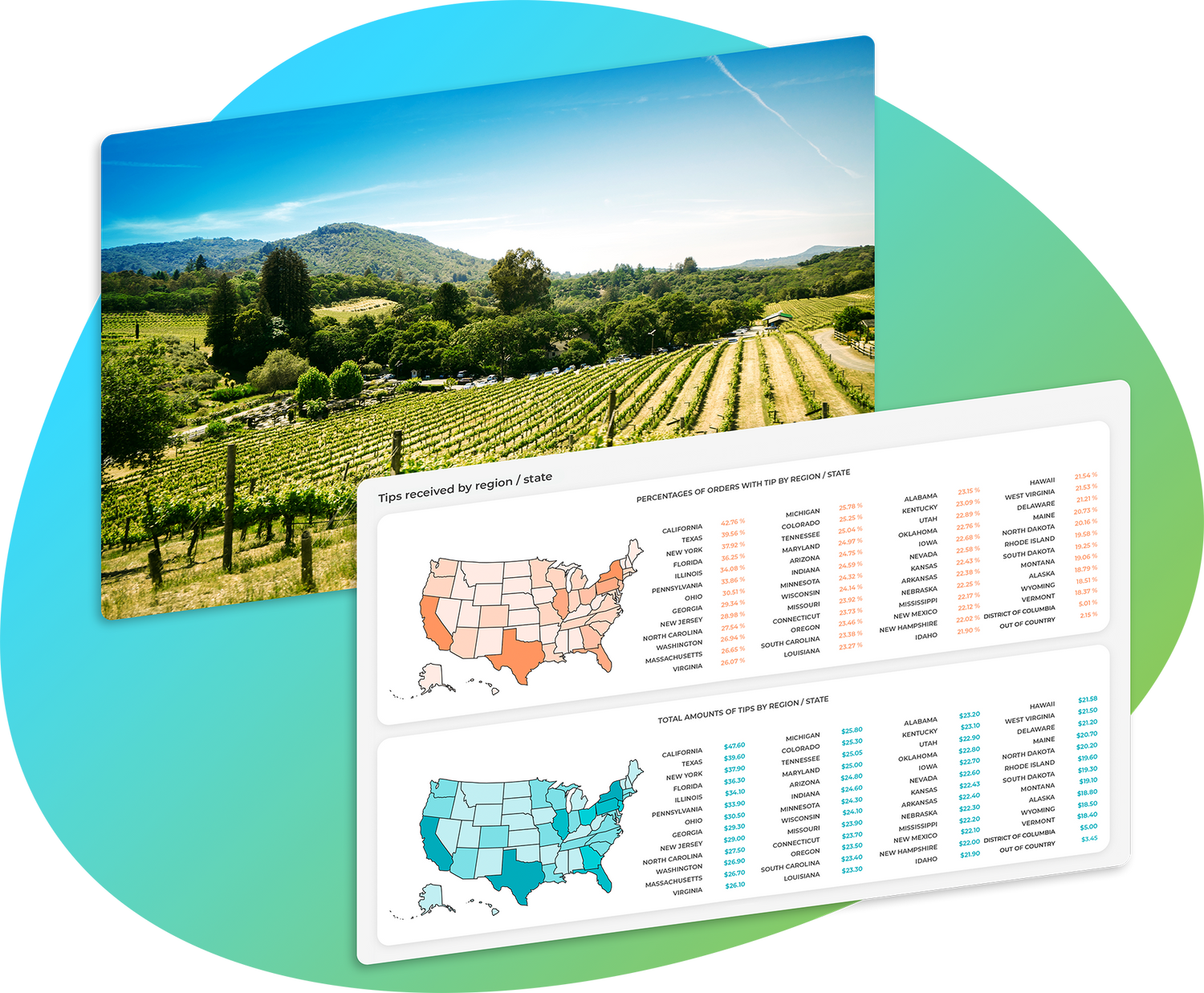 In which regions / states
Explore the geographic potential for acquiring tips in each region or state:
⦿ Visually pinpoint your main sources of generosity in your country through color shades
⦿ Measure the potential of each region and compare their amount at the national level
● Refine and confirm the relevance of your digital investments based on your geographic sources of tip acquisition.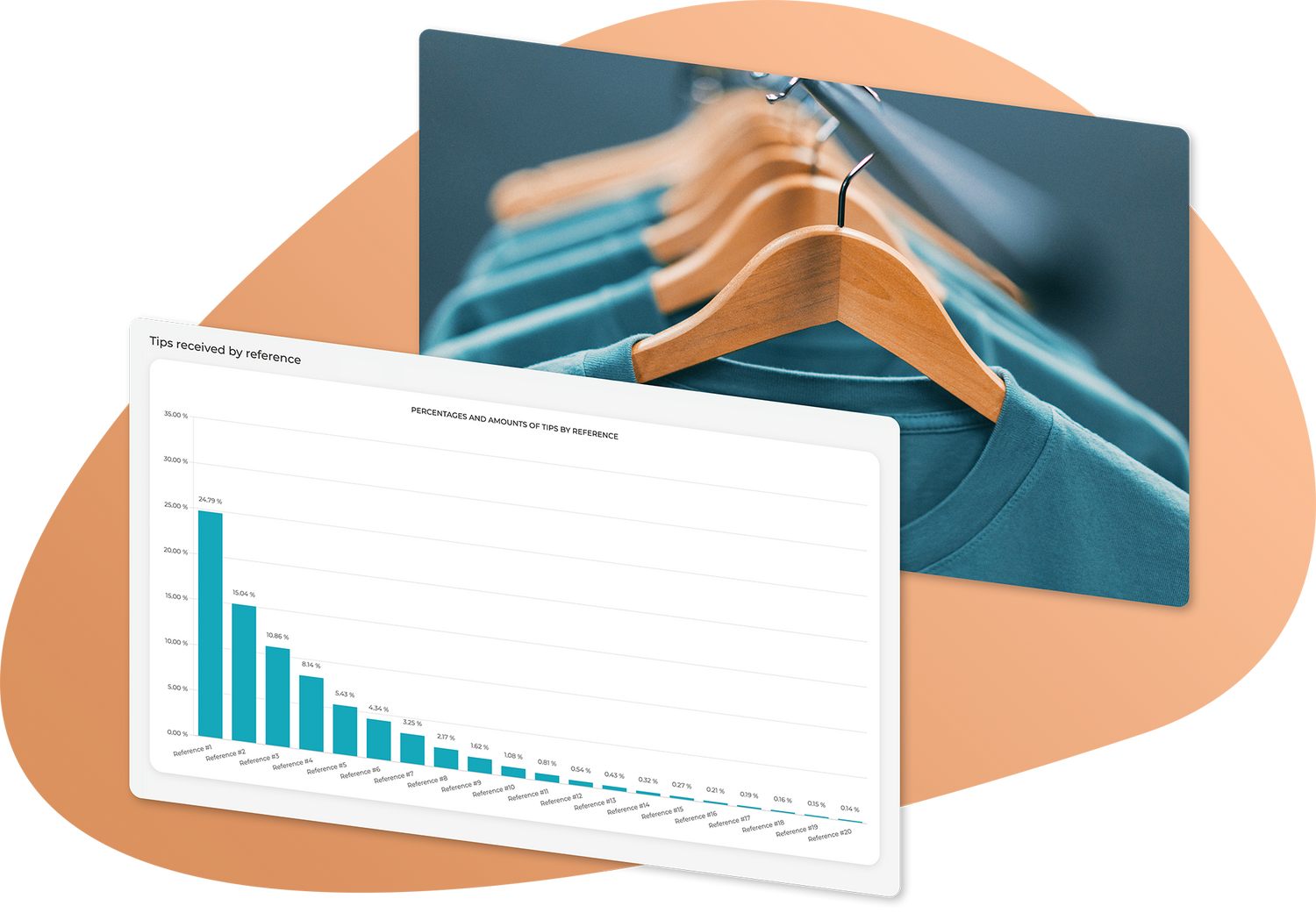 On which product references
Track your top 20 product references that generate the most tips:
⦿ Discover, for example, that the generosity of your customers is not necessarily linked to your selling prices
⦿ Uncover or confirm your best-sellers, and even among them, identify the "best of the best" to focus on
● This ranking holds valuable insights that can inform creative and business actions for a perfect alignment with your community.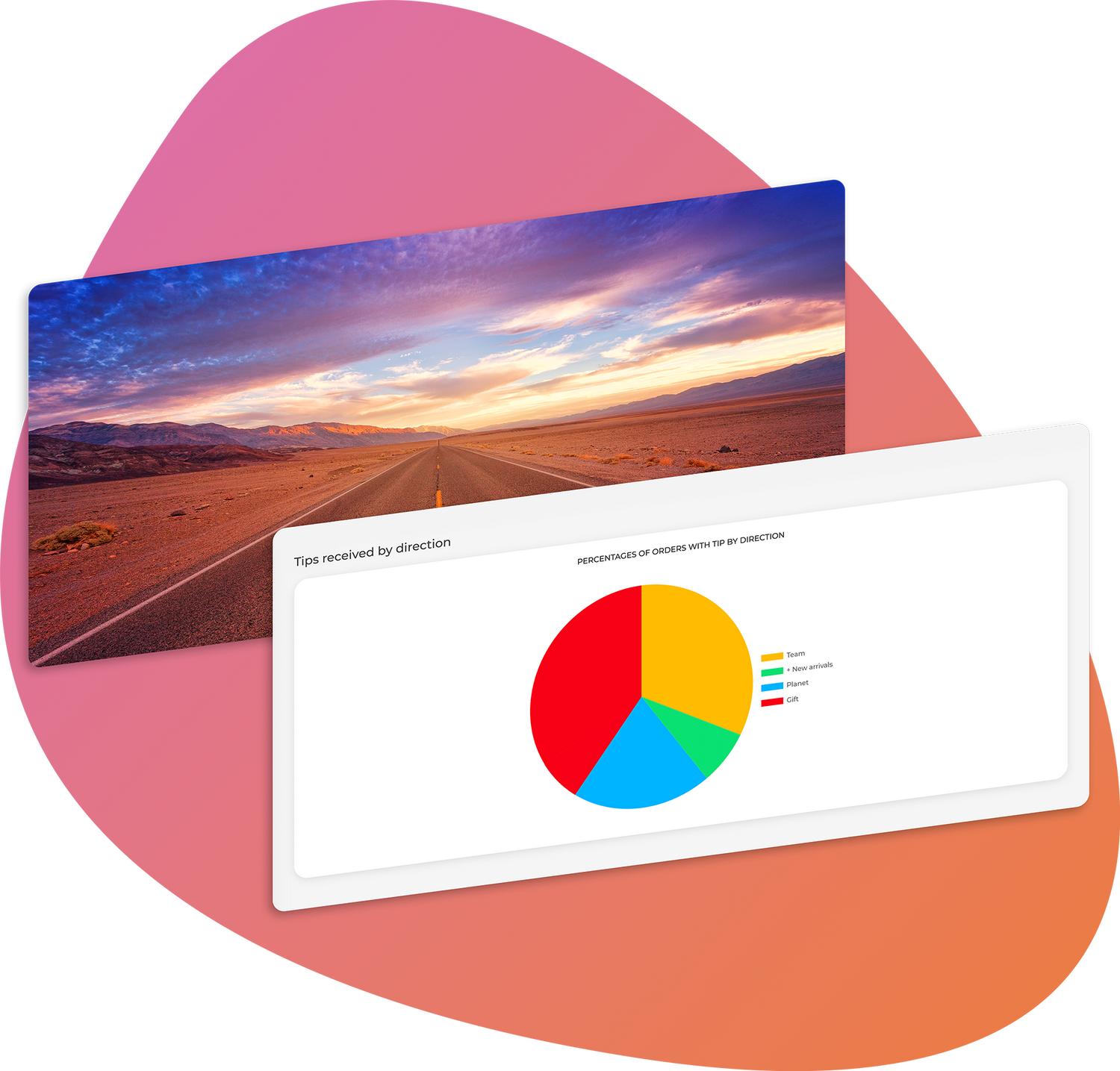 To which directions
Discover the top directions where your customers direct their generosity based on 4 relevant interests:
⦿ Team, an evident witness to the positive energy you infuse into your community
⦿ + New Arrivals, a revealing marker of genuine customer satisfaction and their desire for new creations
⦿ Planet, a strong indicator that your community supports you and even wants to join you in your benevolent eco-environmental actions
⦿ Gift, for you, sincerely, just because
● Act with confidence in your journey by leveraging the significant trends of generosity.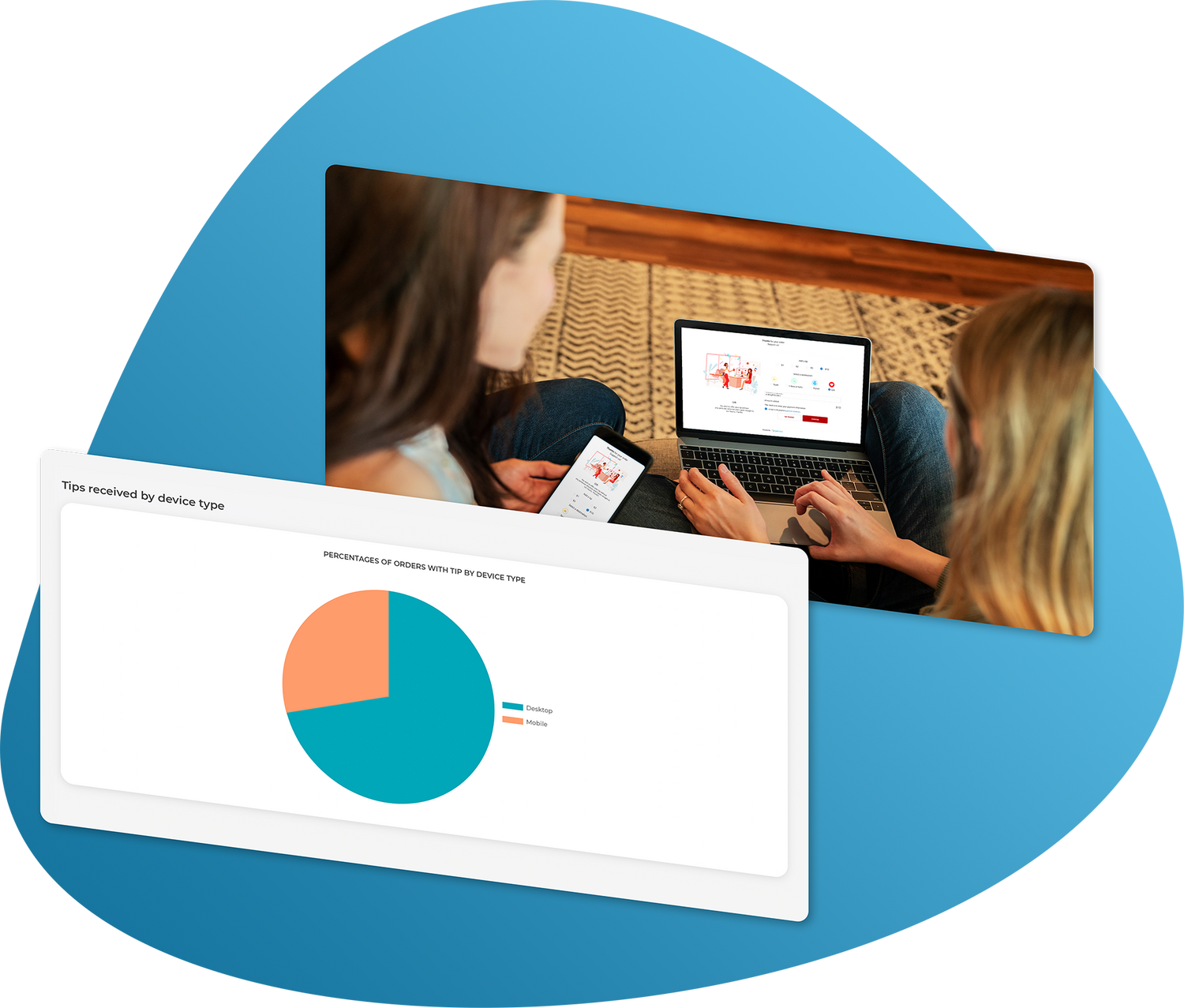 On which device type
Display in real-time the potential of the 2 main device types for all tips earned:
⦿ The pépiteurs tipping plugin takes into account the growing trend of the mobile-first user experience, providing a fully responsive customer journey, from desktop to mobile
⦿ The power of "buying from anywhere" drives the increasing trend of e-commerce through mobile, making it easier than ever to leave & earn tips in the e-commerce sector
● Unlock the full potential of tipping acquisition for a deeper understanding of your community's digital trends and more optimized marketing actions.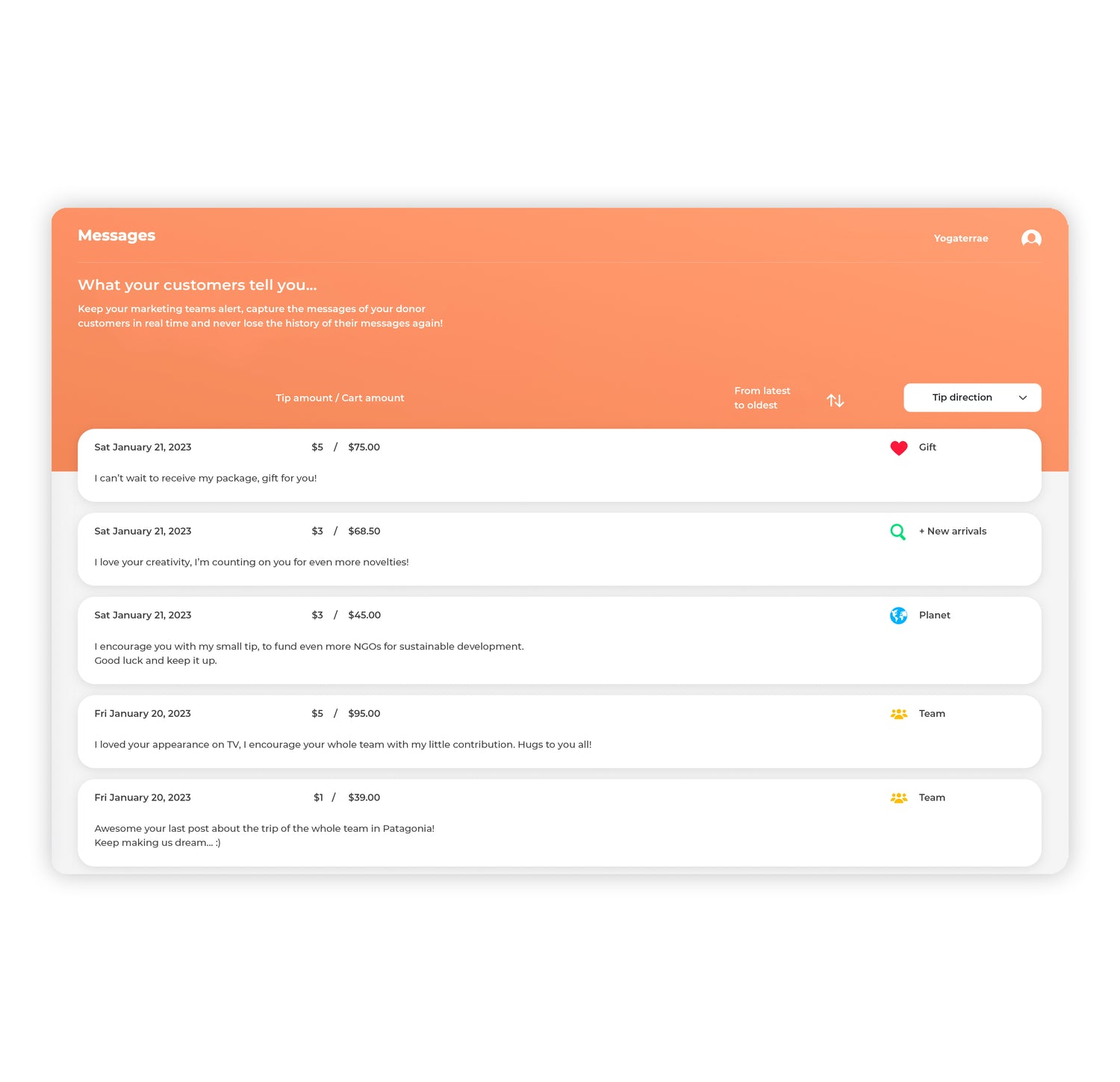 What your customers tell you...
Keep your marketing teams informed, with direct access to the messages from your donor customers:
⦿ Classify messages based on their direction (tip directions), including tip and order amounts reminders, to facilitate the reading and analysis of each comment left by your customers
⦿ Drive an effective marketing strategy for your business by prioritizing a data-driven culture, gaining direct insight into the emotions and real expectations of your customers, who show sincerity, authenticity, and transparency
● Don't miss out on the opportunity to shape the user experience, optimizing it on your store and ultimately enriching your company's shared vision and mission.
What makes our users smile :)
+10%

Average Revenue Increase

on all orders with tip
"Surprising, unexpected, and enriching"
By installing the application, we did not truly expect and so quickly receive our first tips on a significant portion of validated orders. It was at these precise moments that we realized that with these tips, we had in our pocket a priceless means of further establishing the credibility of our caring image for a lasting relationship with our community. :)
Valentine, Sales Manager, Yogaterrae team
See more customer experiences
"Amazing Shopify App"
"Amazing Shopify App that allows you to collect tips at the end of the customer journey. I love the intuitiveness of the app, and a big thank you to Tim for the integration support... which, by the way, is really straightforward. If you have a Shopify store or marketplace, this is the app that every store needs... I highly recommend it +++"
Alexandre, Founder of Pinkers marketplace
See more customer experiences
Why not give it a try yourself?
To experience the relevance and exclusivity of our Shopify app the pépiteurs, give it a try and start earning tips from your very first orders!
INSTALL FOR FREE